Providing incentives to your WooCommerce website visitors in order to increase brand or website engagement is a great online marketing tactic.
You can also have these incentives as part of your funnel and turn those website visitors to clients.
Spin to Win Popups & Gamification
Spin to Win Popups provide an easy way to do that and they also help you gamify your website.
Gamification is actually a huge topic in conversion rate optimization. it makes a big difference in engagement and of course in conversions.
Did you know that Verizon Wireless managed to increase time on website by 30% by gamifying its website? Read the story here
Let's have a look at some of the advantages of gamification:
Improves traffic for the website
Improves time spend on site
Encourages website visitors to take action
Increases interaction and engagement
Increase brand engagement
All of the above are important factors for any ecommerce website.
Spin to Win Popups provide an excellent way and easy one too in order to achieve all of the above.
The easiest way to implement Spin to Win Popups on your WooCommerce website is by using OptinMonster, one of the most well-known conversion rate optimization tools and lead generation software.
Helpful links: OptinMonster Website | OptinMonster Review
The Process
Let me walk you through the process of how easy it is to setup a Spin to Win popups on OptinMonster.
There is a process of 5 steps which includes:
Design
Display rules
Integration
Analytics
Publish
The total number of specific steps though within the above easy wizard type of process is ten.
First you will need to sign up for OptinMonster and get a Growth plan which includes Spin to Win campaigns.
After you activate the plugin through your website platform you connect your account with OptinMonster and then you follow a wizard type of process to easily setup the campaign.
Here are the 8 steps to setup Spin to Win popup campaigns on OptinMonster:
Select campaign type
Choose template
Name your campaign and choose website
Customize the template and edit wheel sections
Edit the Display rules
Select integration
Connect Analytics
Publish
1.Select campaign type
As a first step you need to select the type of campaign. Ideally and although you have other options too you will go for a "Gamified" campaign in order to easily setup a spin to win popup campaign.
As you can see in the image above OptinMonster provides you with 6 different options.
Select the "Gamified" campaign and then choose and Spin to Win template design.
2.Choose a Template
Choosing a template is pretty straight forward as you have 3 basic templates for a Spin to Win popup and you choose one of the 3 in roder to start editing the design and customizing the popup campaign.
Choose either the Blue, Green or Red so that you are taken to the next step of the process to name your website and select a website.
3.Name your campaign and choose website
During this step you simply need to name your campaign and choose a website to connect your campaign with.
4.Customize the template
OptinMonster provides a drag and drop easy-to-use editor to help you customize your template without requiring you to have any special design skills.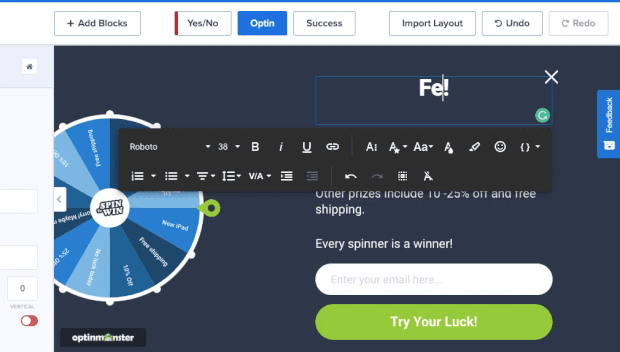 The editor allows you to click and edit every text easily as well as change color buttons in a click.
You can also change the logo, upload images, change colors of any element including changing the background color.
During this step you will also have to edit the wheel section of your campaign so that you customize the settings according to your needs.
As you can see in the image above you can set for every number the option to win or not, the winning chance, give a name and also a coupon code.
In the example in the image above 6 out of the 9 options win either a 20% off, a 10% off or a Free Shipping.
5.Edit the Display Rules
You basically set who's gonna see the campaigns. This is done by editing Display Rules and creating conditions.
Display rules refers to a set of conditions which control when and where your campaign can appear to visitors on your site.
There are a number of rules and conditions you can use so that you control exactly who you want to see this campaign.
Here's a list of some of the rules you can use:
Time on site or time on page
Exit page detected
Distance scrolled
Visitor inactive time
Current day, month or time
Current URL path
Visitor has seen
Visitor has not seen
Pages viewed
A cookie
The referrer URL
Visitor is new
Visitor is returning
…..and more
Tip: A good idea is to show your Spin to Win campaign on your shopping cart page to decrease cart abandonment or as special promotions during holidays.
6.Select Integration
In order for a visitors to use the Spin to Win they will need to provide an email address. At the same time you need to save these email addresses in your email list.
Therefore you need to integrate OptinMonster with your email marketing tools or other type of software you use for storing this type of data.
The process is very easy as you only need to choose your email provider and then choose email provider account to connect your campaign.
7. Connect Analytics
It is important that you can have proper analysis and statistics of actions and activity for your campaigns and that is why part of the process is to connect Google analytics with your campaign.
The process is a matter of 2 clicks basically and within seconds your campaign will be fully integrated with Google Analytics.
8.Publish the campaign
Finally you need to publish the campaign. This last step it only required that you basically change the status from "Paused" to "Live".
Once that is done your campaign will start running.