Although they say that the easier you make it for your user to sign up for your website forms the higher the conversions, that is not always the case.
Especially when it comes to new visitors on your website. New visitors that don't know about your brand probably are not ready to trust you with their information yet, even if its only filling out a form with just their email address.
That is why sometimes you need a multi-step popups in order to increase new visitors conversion rate.
What is a multi-step popups process?
A multi-step popup is a popup campaign that has 2-3 steps involved rather than just one.
At the same time though this can help you with returned visitors too. Especially when you trigger the multi-step popup process after they click on a button.
Don't just push a popup without letting your users first take action. Actually this a basic principle of how a multi-step popups should work! This is crucial if you want higher conversions from your popup campaigns.
You want your visitors to click on a button so that you have a process triggered by them instead of you aggressively pushing a popup to them.
It will be easier then for them to follow a multi-step process to fill out a form and you generating a new lead.
Let me show you how to easily setup a multi-step popup campaign using one one of the best conversion rate optimization tools and lead generation software.
1.The tool you need to use
OptinMonster
is integrated on more than 1 million websites and is used by some top brands including the Harvard University, American Express, Trip Advisor, McAfee and more.
Since 2013, OptinMonster has been helping all types of businesses, from small independent businesses to Fortune 500 companies improve their website conversions.
OptinMonster allows you to easily create a multi-step popups and even customize it according to the type of visitor or his/her behavior on your website.
Installing OptinMonster is as easy as intalling a plug-in. First you have to sign up with OptinMonster. Click for an OptinMonster Discount Coupon
Then you need to install the plugin on your website and connect with OptinMonster.
2.Create a campaign
Click on Campaigns and then click on the green button that says "Create New Campaign." (see image below)
Then choose POPUP and select a template from the list of templates. There are over 50 templates and you can even find smartphone ready templates too.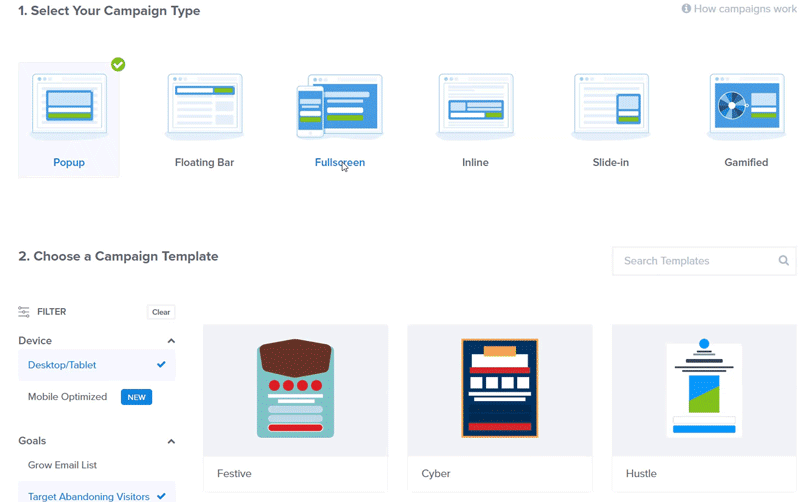 OptinMonster also includes Mobile Click-to-Call templates. You can combine these with some other powerful mechanisms included, such as Device-Based Targeting or InactivitySensor™ in order to skyrocket your mobile conversions and generate more leads.
There are so many different templates to choose from based on your campaign and its content, that it doesn't make sense in my opinion starting one from scratch.
The templates are categorized based on goals, devices, and categories.
After this step you will be taken to the next screen where you have to provide basic information about your campaign.

3.Choose website
In this step simply give a name to your campaign and choose your website from the drop down list.
Click on START BUILDING to edit your template popup.
4.Edit template popup
The drag and drop builder of OptinMonster makes it really easy for you to start editing your template and adding your content.
The OptinMonster popup builder lets you choose from 6 different campaign types and depending on your online marketing needs. For the purpose of this guide choose the Optin type.
Start editing the popup template just by clicking in the area you want to edit or drag and drop elements to your main template area.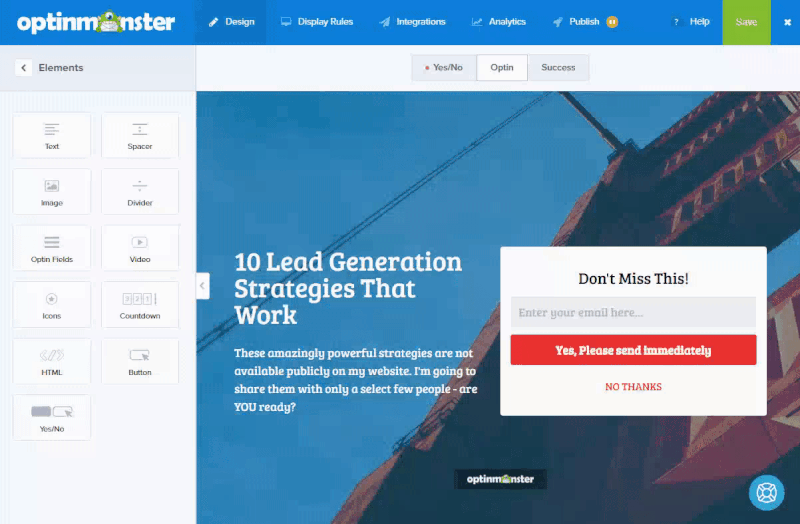 You have elements such as images, dividers, buttons, videos, countdown timers, and more.
Helpful Link: Read my OptinMonster review and find out everything about it
5.Setup conditions and rules
As I've mentioned in the beginning, in order to increase conversions with multi-step popups campaigns you need to trigger the campaign on the click of a button.
OptinMonster includes a very simply way to do that.
Once you are in the Display Rules area scroll down to the Popular triggers areas and click on MonsterLink (On Click).
MonsterLink (On Click) trigger is used when you want to show a popup campaign when the visitor clicks a specific link, button or image on your website.
In the next step you can configure your MonsterLink to load on any page or on a specific page on your blog.
The way you do that is by simply copying a link and pasting it in the page that you want on your website.
That's it. In just 5 steps you can have a multi-step popups ready for your website.
Helpful link: Visit the OptinMonster and learn more on how you can start generating more leads today!