If you are reading this chances are you want to improve Core Web Vitals in order to improve your Google rankings.
Remember that. starting May 2021, Google is going to use it as a ranking factor and include it as part of Core Web Vitals.
Don't do it only because of rankings though. Improving the overall user experience on your site has many more benefits, including ranking higher on Google.
Better user experience means people will be staying more on your website and you will be able to convert them to email list subscribers, generate more leads or increase sales, to name a few of the benefits.
What is Core Web Vitals
First of all a simple explanation for what Core Web Vitals is. In simple words it is a set of metrics related to the speed, responsiveness and the visual stability of your website.
This initiative by Google has a very specific purpose: They want to send their users to websites that do not frustrate them and that provide the information they need fast!
Website speed and User Experience matter more than anything else for Google.
As per Google:

"Why page performance matters
Longer page load times have a severe effect on bounce rates. For example:

If page load time increases from 1 second to 3 seconds, bounce rate increases 32%
If page load time increases from 1 second to 6 seconds, bounce rate increases by 106%"
Site Speed Report to Improve Core Web Vitals
You need the right speed reporting system to help you identify what really to improve
The Site Speed report by Monsterinsights (one of the best WordPress Analytics plugins) provides you with all the necessary reports you need to have in order to improve not only the speed of your WordPress website but the overall user experience too.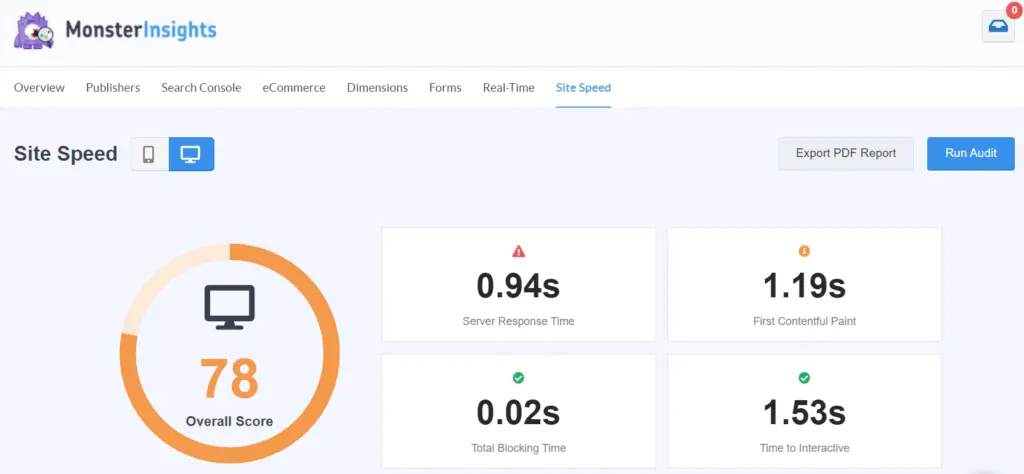 Site Speed report provides you with the following reports:
Server Response Time – find out how long your website server takes to respond to a request and return data to load the website
First Contentful Paint – find out how long it takes for your WordPress website to load visual elements like fonts and images
Time to Interactive – find out how long it takes for a user to start interacting with your website (ideally 5 secs or less)
Total Blocking Time – It shows you how unresponsive a page is before it becomes fully interactive. Usually things like scripts and unnecessary code are elements that block a page from fully loading faster.
But it doesn't stop here:
Knowing what's wrong is the first step. The question is: What do you do after?
Site Speed report provides you with information of what is causing the problem, what your goals should be with regard to metrics, as well as gives recommendations what to do including links to resources to help you understand the problem more.
As you can see in the screenshot below the site in this particular example didn't pass the First Contentful Paint test.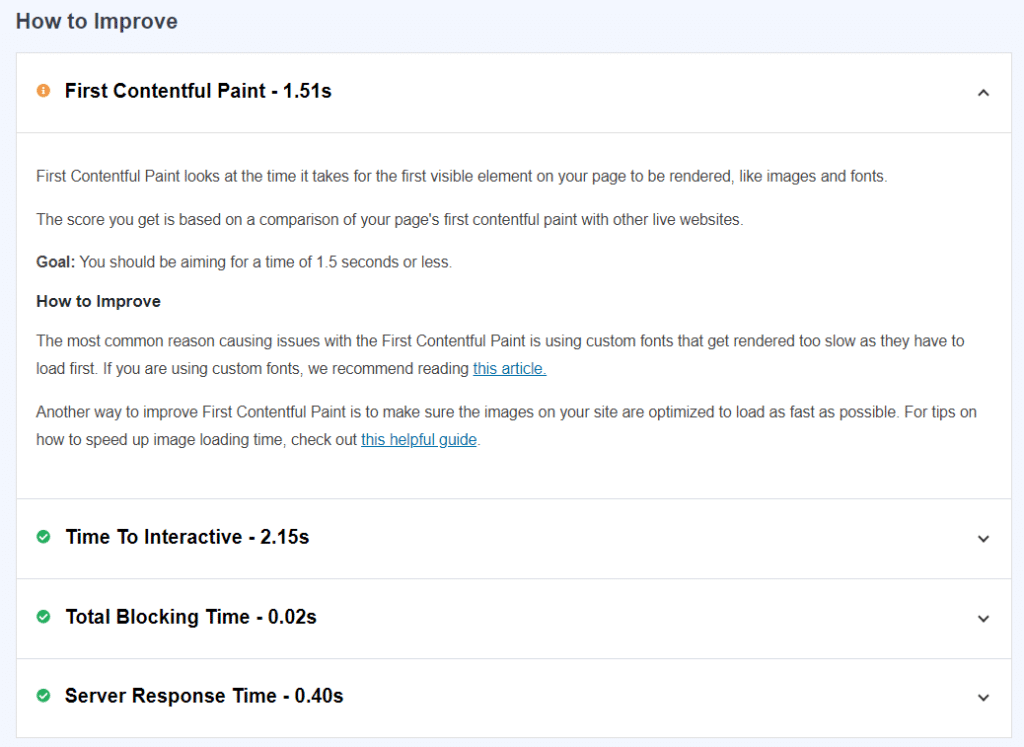 The user clicked to find out more about the and receive a full report on the problem and what exactly he/she needs to do.
More than Site Speed Reporting
As said above Site Speed reporting is part of the MonsterInsights WordPress Analytics plugin that provides personally for me a complete analytics solutions for WordPress sites.
You can combine the power of the Site Speed reporting system with the power of the data you can receive from the Analytics system and in order to understand user-behavior on your website.
In simple words MonsterInsights will help you setup Google Analytics on your WordPress site in order not only to find the same metrics easily in just a click away but also to generate reports instantly that in Google Analytics you would need to hire a developer to generate them.
There is another blog post of mine on how to view and export Google Analytics data insight WordPress if you are interested. I explain how to use MonsterInsights for this purpose.
With MonsterInsights you can generate reports on the following:
Top Landing Pages
Top Exit Pages
Top Outbound Links
Top Downloads
View Audience Demographic Report ( Age / Gender / Interests )
Top Google Search Terms
Number of Clicks
Click-Through-Ratio
Average Results Position
Conversion Rates (ECommerce)
Number of Transactions (ECommerce)
Total Revenue (ECommerce)
Average Order Value (ECommerce)
Top Products (ECommerce)
Top Conversion Sources (ECommerce)
Time it takes for Customers to Purchase (ECommerce)
How Many Sessions are needed for a Purchase (ECommerce)
Which Authors Generate the Most Traffic
Which Post Types Perform Better
Which Categories are the Most Popular
Your Blog's most popular SEO Scores
Which Focus Keyword is Performing Better in Search Engines
Contact Form Plugin or Sign-up Form Reports
Top Converting Forms
Forms Impressions Count
MonsterInsights is trusted by companies such as Microsoft, Bloomberg, Playstation, Subway and FedEx.
Find out more by visiting the MonsterInsights website. If you wish to purchase the plugin use this coupon code for a 50% discount.